So you wanna see Béla Fleck: My Bluegrass Heart
Featuring Michael Cleveland, Jacob Jolliff, Justin Moses,
Mark Schatz, Bryan Sutton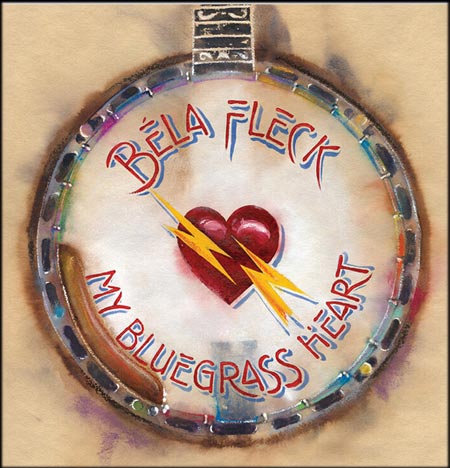 DATE: Wednesday, July 20, 2022
PLEASE NOTE: We do not accept credit cards on site for Food or Beverage... so when you come to the show bring cash or checks!
SHOWTIME: 8:00 p.m. --
Our Lobby may or may not be open for lingering. Please check before you come if you want to come a little early.
Doors open at 5:00. Dinner Seating begins at 6:00..
LOCATION: Maine Hall
DINNER: Available by reservation before the show. (not included in ticket price). Click to view show menu.
Outside food or beverage is not allowed on our premises. The permit holder (SMAC) is responsible for any and all food and beverage consumed on our premises so it needs to be provided by us. Not to mention, we're tryin'to make. livin' here!
SEATING: If you dine with us, the seat you eat at is also your concert seat in the Maine hall. Please let us know if you cannot physically do tall chairs of stairs.
COVID PERFORMANCE UPDATE - for this show
The following policy is in place for this PERFORMANCE.
* PROOF OF VACCINATION or a negative (within 72 hours) Covid test is required upon arrival to attend this concert. Please bring proof to check in.
* MASKS - Please Note... Some artists may request masks to be worn during the show when they perform. So please be prepared for this possibility without notice.
* A note from the owners: Jeff and I don't care what you believe or don't believe.…really!! We can't pleasse everyone all the time in regard to Covid related policies. WE arer all doing the best we can in these divisive times. But I think we could all agree, that IT'S BETTER TO BE KIND!




ADMISSION: $135.00 pp ($4 handling fee for concert)


There is an 8 ticket limit for this show.
Sorry ... original membership that includes meals are not applicable for this high ticket show. (All Gold Passes are applicable.)
IF YOU DO NOT GET A CONFIRMATION AFTER YOU ORDER
PLEASE CHECK YOUR SPAM OR GREY MAIL BOX
( some mail programs don't like us !)


CONCERT GETAWAY PACKAGE:


Need a place to stay?

Stay at one of these selected nearby inns and get perks like show tickets, a roundtrip shuttle to the show, a cozy dinner, a country breakfast and more. All these properties are great and have something special to offer. Check them out and make a night of it! (Prices vary)
Click any property for package details.