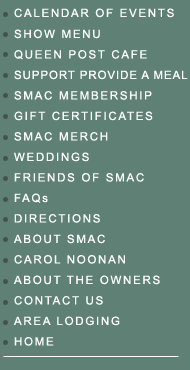 FEATURED LOCALS ...
When you dine with us, either at Noonan's or for curbside take out, you'll also support these local businesses.

Weston's Farm
Fryeburg, Maine
The Stow Away Baker
Stow, Maine
Northland Lobster Company
Conway, NH




A garden salad with our house vinaigrette

MAINE COURSES..choose one entree
* Steak Sirloin with Maple Onion Sauce
Served with snap peas and baked potato with sour cream and bacon butter
*Seafood Linguini
* Gulf shrimp and Maine lobster sauteed in white wine and tomatoes over linguini with a drizzle of basil alfredo and topped fresh tomato and basil garnish and parmesan
* Veggie Shepards Pie
Garden and root veggies in a savory sauce topped with veggie mashed potatoes
Comes with a mini fruit bowl
DESSERT COURSE
Cheesecake topped with caramel sauce and heathbar crumble
(Need some menu substituitions? ... ...never hurts to ask ahead of time!!}
Tonights Supper Does not include tip, tax or additonal beverage.
Does include a lotta fun and a great way to support us !
And we Thank you for keeping SMAC and our staff working!!!
Memberships not applicable for this special event dinner


SOLD OUT




Payment for this event will be at the end of the evening
by CASH or CHECK.