So you wanna come to our Annual Christmas Craft Fair ...
Lots of great artisans and food. SMAC kitchen will be serving a nice brunchy/lunchy menu available all day
and the bar will be open for some Christmas cheer!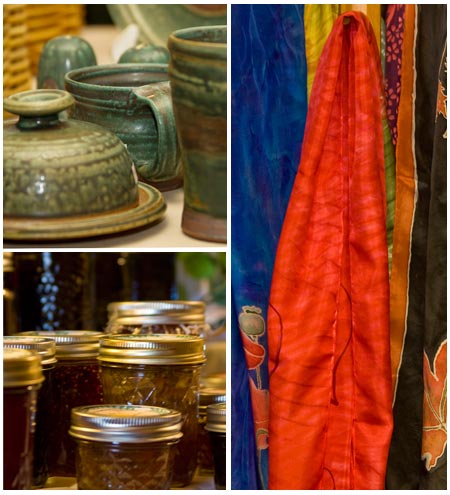 DATE: Sunday, December 4, 2022
TIME: 10:00 am - 3:00 pm
ADMISSION: $2 at the door ... kids under 12 free
PLEASE NOTE: We do not accept credit cards on site for Food or Beverage... so when you come to the show bring cash or checks!
We will take some limited reservations for dining and of course we welcome walk ups too!If you really wann table, call ahead (207-935-7292)
Dining Seating : Is available in the balcony or the first Barn as well as out 4 season porch.In the main hall in the balcony and on the floor in the middle of the room. You can order at the bar or ask Susie at the door to contact a server to help you.
Full Menu: From Brunch to Lunch
*Super SMAC Breakfast English Muffin Sandwich
Open Faced for easy eating Made with a big Stow Away Baker English Muffin, layered with scrambled eggs, sausage, spinach, tomato and carmelised onion
Served with a side of fig jam 20.00.
*Want it veggie? …Leave out the meat and add broccoli!
*Breakfast Burrito...Scrambled eggs, black beans, veggies and cheese blend. Comes with a side of sour cream, salsa, and SMAC HomeFries 23.00

*Yummy Waffles ...comes with whipped butter and warm real local maple syrup 17.00 
Add berries 19.00 


*Omelettes ...Served with SMAC homefries and a grilled Stow Away's english muffin 23.00
-
Meaty Omelette ....bacon, ground sausage and ham, carmelised onion with our house cheese blend
-
Rustic Omelette...roasted sweet potatoes, carmelised onions, bacon, spinach and goat cheese and house cheese blend 
-
Western Omelette...peppers, onion and ham, and cheese Blend
-
Veggies Omelette ...broccoli, spinach, tomato roasted peppers, carmelised onion and our cheese blend



* Irish Nachos ...A big pan of SMAC HomeFries smothered in ground sausage, peppers, tomatoes, topped with melted cheese and finished off with maple sour cream!!! And a side of SMAC hot sauce . 22.00 * Add Scrambled eggs to the mix 25.00
*Smokey and the Bagel: Smoked Salmon and a Grilled Sesame Bagel with Cream Cheese, capers and pickled onions. 18.00


* Shortbread cinnamon roll drizzled with caramel sauce. Comes with a fruit cup 14.00 


*Granola Parfait ...Greek yogurt, Stow Away's homemade maple almond Granola, berries and real local maple syrup all layered :>)) Super fresh and beautiful 15.00 (granola has nuts)


*Stow Away's Apple Pie with Melted cheddar cheese. My Dad's Fave' Breakfast! 15.00


* Fruit Bowl ... a generous bowl of berries , and melons 11.00

* Sides: Bacon 5.00. /SMAC homefries 5.00 / Baked Beans 5.00

Afternoonish
*Smoked Salmon App…. Spiced smoked salmon with a side of herb cheese, pickled onion and capers, and crackers crackers 18.00



Homemade Bufflao Chicken Fingers buttery panko chicken dredged in our buffalo sauce with Buffalo with Maple Blue dressing 18.00 (add it to one of our salads)
*Shrimp Cocktail ...17.00 (Add it to one of our salads!!)
County Meatloaf Wrap…Hearty meatloaf with melted cheese, lettuce, tomato, and honey mayo. Comes with pasta salad and chips 24.00
*Veggie Wrap ...garden veggies with melted cheese and our poppy seed dressing. Comes with Comes pasta salad and chips 20.00
Roast Turkey BLT Wrap ….Roastred turkey with with lettuce tomato, bacon and honey mayo. Comes with pasta salad and chips 20.00


By The Crock 

* Beef Tenderloin Stew with a buttery biscuit

* Veggie chili topped with cheese and comes with with corn bread, tortilla chips and a side of sour cream


SMAC BIG Dinner Salads comes with bread and honey butter


SMAC Super Salad Fresh Greens, garden veggies, dried fruits, topped with our House vingairette and Jeff's nuts! (his famous glazed pecans). 18.00
*Greekish Salad….Fresh Greens, cukes, toms, olives, pickled red onions, banana peppers and feta of course. Topped with dried cranberries, croutons and our housee vingairette 22.00
*Buffalo Chicken Finger Salad..... This is like having your favorite wings only no bones or mess! Fresh Greens topped with buffalo braised panko chicken fingers drizzled with our maple blue/ ranch sauce with garden veggies and Stow Away Croutons. Topped with blue cheese crumbles with our maple blue/ranch. Comes with corn bread and honey butter. 30.00
*Barbarella This is my sister Barb's favorite salad...and like the movie, this salad is lusty and fun! Starts with Fresh greens, fresh mozzarella, sliced sweet grape tomatoes, topped with dried fruits and Jeff's nuts! (his famous glazed pecans) Then finished off with a drizzle of our house vingairette 22.00
* Fruity Salad ...Fresh Greens, berries, fresh blue cheese or goat cheese, dried fruits, topped with our creamy poppy seed dressing and Jeff's nuts! (his famous glazed pecans). 22.00


Xtra Salad Toppings: Smoked Salmon 9.00 /Herb Roasted Chicken 8.00
Goat cheese 3.00 Feta Cheese 3.00 Blue cheese 3.00 


*Holiday Jar of Jeff's Nutz!! 20.00


 Sweeties from the Stow Away Baker!!!
* Stow Away's Home Made Pie ala mode Gotta try it!! 16.00
* Mocha Whoopie Pie! Dutch Chocolate dipped Cake with a creamy mocha filling. 12.00
*Brownie Hot Fudge Sundae with heath bar crunch ... 15.00 


A Note from Carol and Jeff.... We know our prices are on the high side...but again, when you dine with us you are helping SMAC to shine....and we thank you!!! By th way... ya know our portions are generous just like you!!!